Number of Records Broken and Made in Historical Asia Cup 2023 Final Courtesy to Mohammad Siraj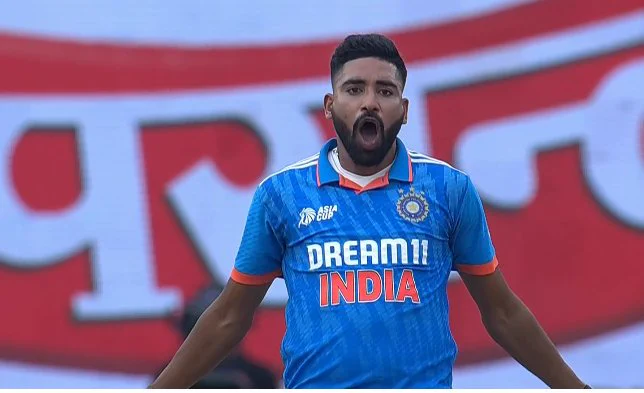 In a sensational display of bowling mastery, Mohammed Siraj led India to a resounding victory over Sri Lanka in the final of the Asia Cup 2023, etching his name in cricketing history with an outstanding performance that will be remembered for years to come. Siraj's spellbinding performance saw him claim six wickets, sending shockwaves through the Sri Lankan batting lineup and leaving fans in awe. Here are the astounding stats highlights from Siraj's magical day and India's dominant display in Colombo:
Sri Lanka's Day of Horror
Sri Lanka's dismal performance with the bat saw them being bundled out for a mere 50 runs, marking the lowest total ever recorded against India in an ODI, as well as the lowest ever in an ODI final. The previous lowest total against India was 58 by Bangladesh in Mirpur in 2014, while the previous lowest in an ODI final was India's 54 against Sri Lanka in Sharjah in 2000.
Lowest Totals in ODI Finals
Sri Lanka – 50 (15.2 overs) against India at Colombo RPS on 17-Sep-23
India – 54 (26.3 overs) against Sri Lanka at Sharjah on 29-Oct-00
Sri Lanka – 78 (16.5 overs) against Pakistan at Sharjah on 17-Apr-02
Oman – 81 (29 overs) against Namibia at Windhoek on 27-Apr-19
West Indies – 103 (40.3 overs) against Pakistan at Melbourne on 20-Jan-97
Lowest ODI Totals vs. India
Sri Lanka – 50 (15.2 overs) at Colombo RPS on 17-Sep-23
Bangladesh – 58 (17.4 overs) at Mirpur on 17-Jun-14
Zimbabwe – 65 (24.3 overs) at Harare on 29-Aug-05
Sri Lanka – 73 (22 overs) at Thiruvananthapuram on 15-Jan-23
Bangladesh – 76 (27.3 overs) at Dhaka on 11-Apr-03
New Zealand – 79 (23.1 overs) at Visakhapatnam on 29-Oct-16
This marks the second-lowest total in an ODI for Sri Lanka, with their lowest being 43 all out against South Africa in Paarl in 2023. It was also the sixth instance of Sri Lanka being bowled out for 76 or fewer runs, with three of those instances occurring in 2023, including 73 against India in Trivandrum and 76 against New Zealand in Auckland.
Remarkably, Sri Lanka batted for just 15.2 overs, making it the fewest overs faced by a team that got bowled out in an ODI final, surpassing their 78 all out in 16.5 overs against Pakistan in the finals of the Sharjah Cup in 2002. Among full member sides, there's only one instance of a team getting bowled out in fewer overs – Zimbabwe, who made 54 in 13.5 overs against Afghanistan in Harare in 2017.
Siraj's Day Out
Mohammed Siraj's incredible performance of 6/21 is not only the fourth-best bowling figures for India in ODI cricket but also the best ODI figures against Sri Lanka in ODIs, surpassing Waqar Younis's 6/26 in Sharjah in 1990. Moreover, it stands as the second-best figures in Asia Cup ODIs, trailing only Ajantha Mendis's 6/13 against India in Karachi in 2008.
Best Figures for India in ODIs
Stuart Binny – 6/4 (4.4 overs) against Bangladesh at Mirpur on 17-Jun-14
Anil Kumble – 6/12 (6.1 overs) against West Indies at Eden Gardens on 27-Nov-93
Jasprit Bumrah – 6/19 (7.2 overs) against England at The Oval on 12-Jul-22
Mohammed Siraj – 6/21 (7 overs) against Sri Lanka at Colombo RPS on 17-Sep-23
Ashish Nehra – 6/23 (10 overs) against England at Durban on 26-Feb-03
In a remarkable feat, Siraj took four wickets in the fourth over of Sri Lanka's innings, making him the first Indian bowler to achieve this remarkable feat and the fourth bowler to do so overall in ODIs, joining the elite company of Chaminda Vaas, Mohammad Sami, and Adil Rashid (where ball-by-ball data is available).
Additionally, Siraj's five wickets in the first 10 overs of an ODI make him the first Indian bowler to achieve this milestone (where ball-by-ball data is available). This achievement puts him ahead of Javagal Srinath (vs. SL Johannesburg 2003), Bhuvneshwar Kumar (vs. SL Port of Spain 2013), Jasprit Bumrah (vs. Eng The Oval 2022), and even Siraj himself (vs. SL Trivandrum 2023), all of whom had previously picked four wickets each. Impressively, India picked six wickets in the first Powerplay, marking the first instance of such a performance in an ODI (where ball-by-ball data is available).
Record Win
India's victory was not only comprehensive but record-breaking in multiple aspects. With 263 balls to spare, it stands as the biggest win for India in ODIs, surpassing their win against Kenya in Bloemfontein when they chased down 90 with 231 balls remaining.
Moreover, the ten-wicket win for India marks the third time such a victory has occurred in an ODI final. The previous instances were India's win in the Sharjah Cup final against Zimbabwe in 1998 and Australia's victory against England in the Australia tri-series final in Sydney in 2003. India's win by 263 balls to spare in the final also breaks records, surpassing Australia's 226-ball win against England in Sydney in 2003.
Incredibly, the entire ODI lasted just 129 balls, with Sri Lanka batting for 15.2 overs and India chasing down the target of 51 in 6.1 overs. This match now stands as one of the shortest ODIs that ended in a decisive result, with only two shorter ODIs on record – 104 balls by Nepal against USA in Kirtipur in 2020 and 120 balls by Sri Lanka against Zimbabwe in Colombo SSC in 2001.